Three passengers injured as ommercial bus driver loses control, crashes into drainage in Lagos
Three people among the passengers inside a commercial vehicle sustained injuries in the afternoon of Friday, September 10, when the driver of the bus they were in lost control of the vehicle, causing it to crash into the drainage beside the road.
The incident occurred around 12:30 p.m. at Ajayi Farm area inward Ikeja Along when the driver of the fully-loaded commercial bus, who was on top speed, suddenly lost control apparently as a result of brake failure, causing the vehicle to veer off the road and crash inside the drainage.
It was gathered that as a result of the accident, three passengers in the bus sustained various degrees of injuries and were seen in the bushy area of the drainage writhing in pain while other passengers who were not injured attended to them.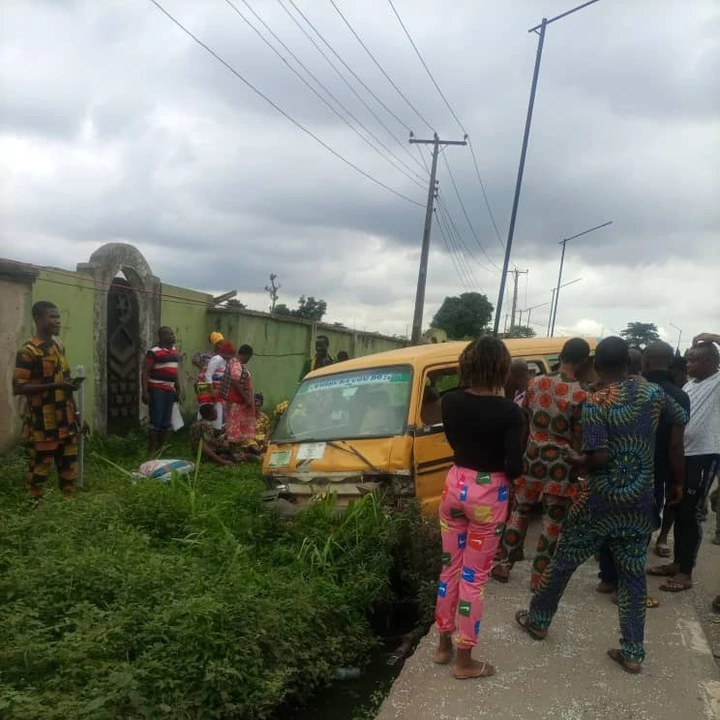 Also, some of the passengers made frantic efforts to make telephone calls to emergency officials who were still being expected to take care of the injured passengers as of the time of this report.
It was also gathered that as a result of the incident, the vehicle that veered off the road landed inside the drainage, with one of its tyres getting stuck inside the drainage while some of the passengers were seen bemoaning their plight.
The incident caused a traffic bottleneck on the ever-busy road towards Ikeja Along as some motorists, especially commercial vehicle drivers, made efforts to assist their colleague in bringing the vehicle out of the drainage.
The incident was announced by the Lagos Traffic Radio 96.1 on its Facebook wall which added that while the passengers were still being attended to by those who were not injured, officials of the Lagos State Ambulance Service, who were contacted over the incident, had informed that they are on their way to the scene.
According to Lagos Traffic Radio: "An accident has just occurred at Ajayi Farm inward Ikeja Along involving a commercial bus which veered off the road and crashed into a drainage beside the road as a result of brake failure.
"Three injured passengers on ground being attended to by other passengers. Officials of LASAMBUS have been contacted and they are on the way to attend to the injured passengers."