There Is No Money Anyone Can Give You That Can Bring You Out Of Poverty - Pastor David Ibiyeomie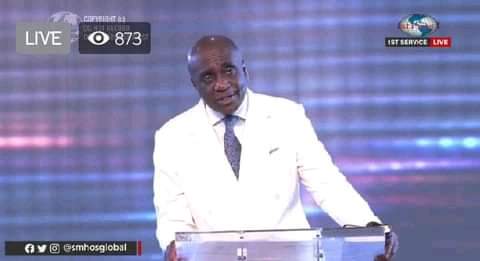 Pastor David Ibiyeomie, the founder and senior pastor of Salvation Ministries, in Port Harcourt, spoke about "Turning Your Reproach to Testimony- Part 1" at SMHOS First Service. He revealed that turnaround is possible and that turning your reproach to testimonies is securing God's intervention that makes every negative situation a stepping stone to experience pleasurable and pleasant things. He revealed that when reproach leaves, your testimony abounds.
Reproach represents itself in several ways, which is by making mockery of you and the God you serve. Turning reproach to testimonies is triggered by deliberate actions of a believer that commits God to intervene. Throwing in the towel is not an option.
He read the book of Proverbs 24:10 which says:
"If thou faint in the day of adversity, thy strength is small"
"There is no temptation you're are going through that God has not made a way of escape. Mockery is one of the last steps before any promotion can come," he said.
However, the man of God revealed that the economic challenge in Nigeria is an opportunity for them to.... Proceed Reading For More Details