Manchester United resumes their premier league campaign with a comprehensive 4-1 win over Newcastle on Saturday afternoon. The Red Devil were in scintillating form as debutant, Cristiano Ronaldo scored twice, while Bruno Fernandez and Jesse Lingard also joined the scoresheet.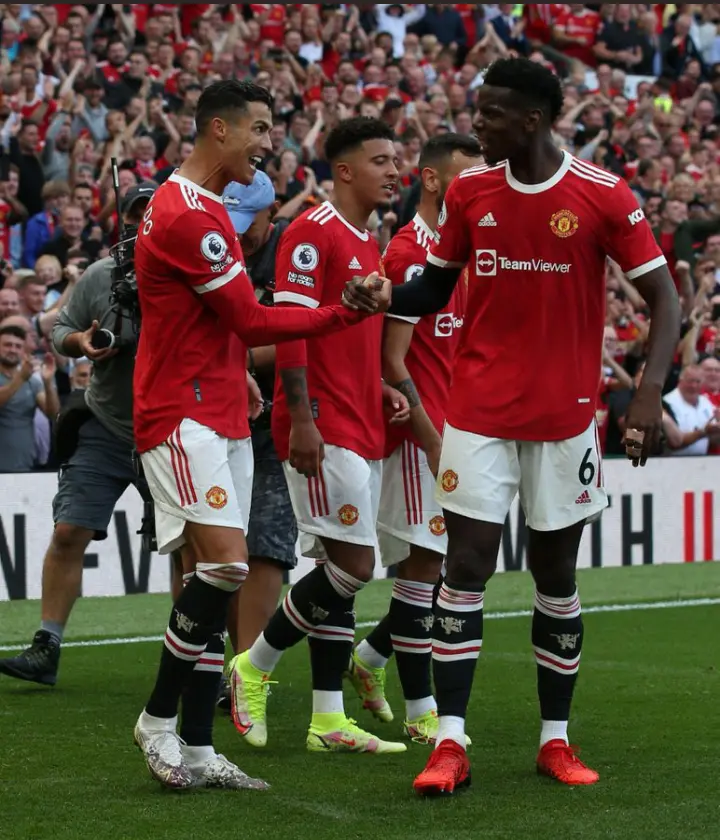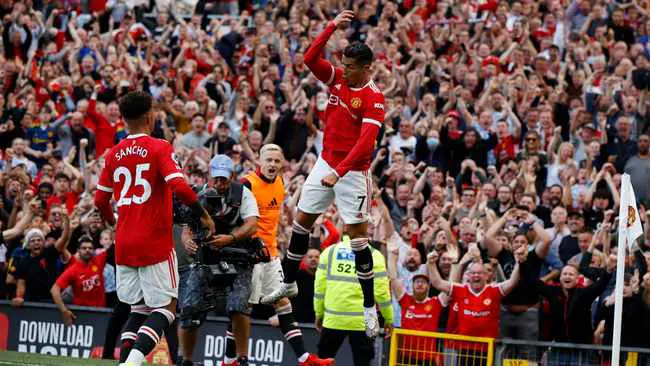 Newcastle were punished by Ole Solskjaer's men for failing to take their chances in the first half. Man United dominated all through the game but few errors and nice counter-attacking play from Newcastle almost cost them. Ronaldo, Paul Pogba, Bruno Fernandez all had an excellent outing but Greenwood and Sancho were relatively quiet.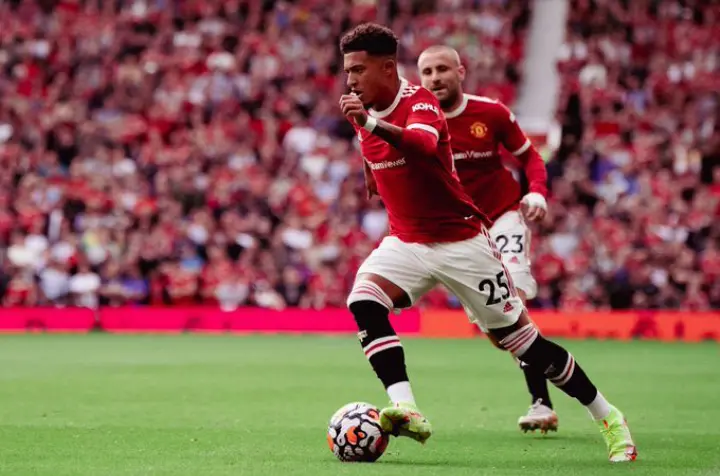 Fans turned to Sancho in particular as he is still yet to find his best form since his summer move to the club. The summer signing showed a glimpse of promising signs in the first half but was quiet in the second half before he was withdrawn for Jesse Lingard who later scored towards the end of the game.
@opresii- "Ok Ronaldo has scored but I want to know why Ole didn't play Sancho In this game? Is he injured or something?"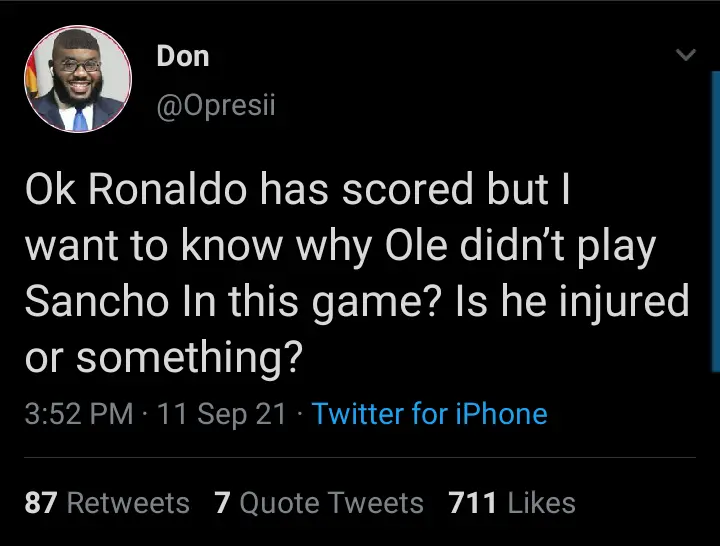 @Boitmuelo_MB- "Jadon Sancho has 0 goals and 0 assists in 4 games but you won't hear anything about it because his name isn't Kai Havertz and he doesn't play for Chelsea"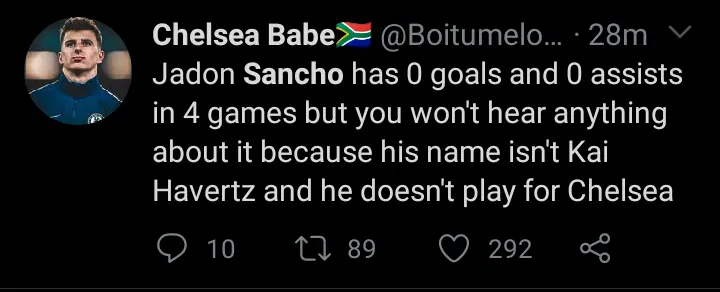 @ObaStann- "Four league appearances, no goals no assist, no pre assist"
@Agueroprop- "Jadon Sancho is the biggest flop in premier league history."

@TunnyKvng- Manchester United fans called Havertz a flop after his first game for Chelsea but look at Sancho after 4 games.
Is God not wonderful?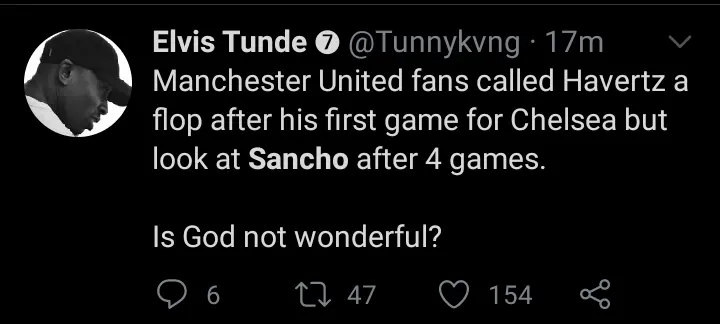 @gyaigyimii- "This is the Sancho you people dey talk about?"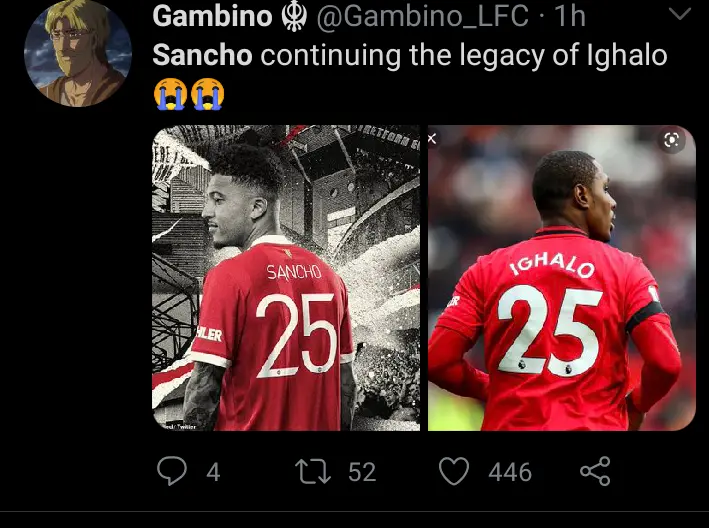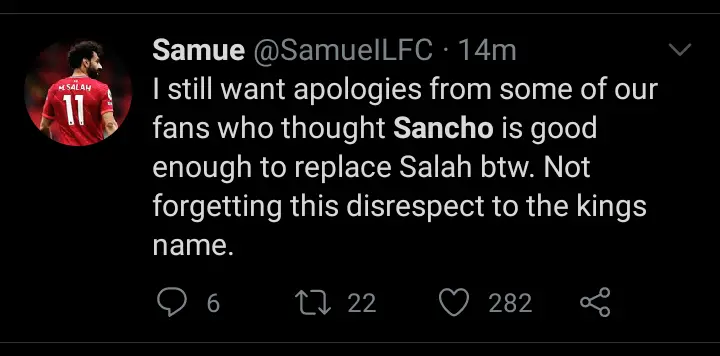 Manchester United turned attention to Young Boys in the Uefa Champions League on Tuesday. Jadon Sancho who still hasn't had a goal or assist to his name in Man United will be looking to leave his previous performance behind him on Tuesday. The team are currently leading the EPL table with 10 points in 4 games.